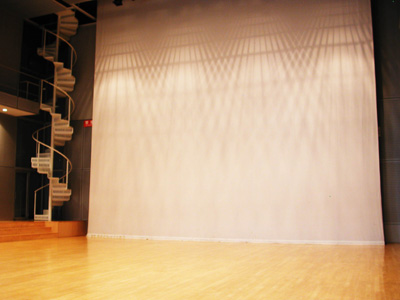 Multiple usage event hall
1) Total Seating Capacity: 200
- The room can be set up for End-stage style or Center -stage style.
2) Stage size
- Depth 15.2 m , Width 10.9 m, Ceiling 8.1m
3) Other facts
- The hall, foyer and practice room for play can be combined by removing the partitions.
- Shielding screen can be set between the hall and the foyer.
- Exhibition panel can be installed in the hall and the foyer.
- The 36.2 m2 Dressing room can accommodate 14 seats.
Other Facilities
- Practice room for play is 88.7m2 with installed mirror.
- There are 2 waiting rooms(6.2m2 and 7.8 m2), and can accommodate 4 seats in each room.